Businesses tend to struggle with a lot of things. Financial management, production times, keeping to a schedule, and others. Another thing they have trouble with at times is waste management. Even with the use of skip bin hire Perth, waste management can be a problem.
The Australian government has a number of laws and regulations on the subject. Businesses that don't follow them will find themselves penalized or worse. You want to have an efficient system.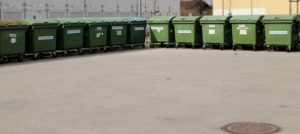 Fortunately, skip bins can help reduce the problem. By letting you put all the rubbish and waste in a small number of containers, arrangement and cleanup are much simpler. There are other benefits too, which we'll look at in a little bit.
First, skip bins make the work area much safer.
You no longer have rubbish and waste lying around. Provided they're closed properly, the bins also don't spill. The clutter is contained, so any harmful debris or potential accidents are reduced. You lower the risk of tripping, falling, and all sorts of other issues.
As a bonus, the cleaner work area is also a great impression on clients.
Skip bins simplify getting rid of waste, in a number of convenient ways.
First, it provides a place where all of it can go before being processed. Even if you use a recycling scheme, you can just use multiple small skips of different colours for proper coordination. Just pick the right bin sizes and you can get started, without any complications.
Of course, it helps to mark what can and cannot go into the bins. If you get a green waste skip, you don't want to use it for construction materials and vice-versa.
Skip bins are cost-effective management solutions for your waste materials once you get used to them.
The simplicity and affordability, combined with the ability to use bin sizes that can accommodate your average rubbish production, makes them an excellent solution. A skip bin company can also come by regularly to pick up the bins and process the contents.
If your business tends to make large loads in a short period of time, the scheduling option can help. You can have them pick it up more frequently than normal, to account for the extra waste.
A benefit is that professionals handle the waste pick up. As long as the contents are sorted properly, you won't have to do anything yourself. We will pick it up and bring it to a proper disposal facility for you, as part of the package.
Click here for the best skip bins.